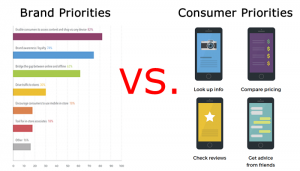 While reading the "Fit for Commerce 2016" report one thing really stood out… Marketers, Product Managers, etc. have no clue of what consumers want from a shopping App. If you have read any of my previous posts then you know how strongly I feel about retailers just re-creating their desktop sites and calling them Apps. New Flash! You aren't even close to delivering what you customers expect.
I'd like you to ask yourself right now "What are your top 3 strategic mobile priorities"?
In the report here were the top answers:
Enable consumers to access content from any device – 82%
Brand awareness/loyalty – 74%
Bridge the gap between online and offline – 62%
Drive traffic to stores – 30%
Encourage consumers to use mobile devices in-store – 18%
Tools for in-store associates – 18%
For your sake I hope your answers are different than all the people who took this survey because they are absolutely clueless about what consumers actually want from a mobile App.
Here is what consumers answered as their top priorities:
Place mobile orders for out-of-stock items while in the store
Lookup information
Compare price
Check reviews
Get advice from friends
The divide is glaring right? Specifically only 18% of marketers have a priority on encouraging customers to shop in-store. What are they worried about? That I will find a better price? This is obviously the case but it is so near sided given that the majority of the shoppers in the store right now want to order items that are out of stock.
The other item with an 18% mark is an App for store associates. Imagine I'm in the store and an item is out of stock or I cannot find the color or size I want. A common problem for any shopper! If I do not have a smart phone the associate (with a hand held device) could immediately look up if that item is available and have it shipped to my home.
So my advice to you is to completely forget about the first four items on this list and to focus on what your customer's value. I believe one of the problems with Mobile Commerce is that companies are focused on advertising click thru and conversion rates. The better approach is to view your App as an advertisement.
What I mean by saying this is that your App should add value to your customers. Every retail App out there has a path to purchase but very few actually offer users a unique experience that does something other than mimic your website.
If you are in this boat I want you to pick up your phone right now and text or call me. In addition to strong opinions on m-commerce I have hundreds of ideas that can take your App to a whole new level and help you lead the field!
Contact Me!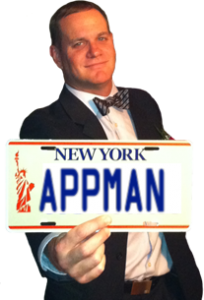 jeremy@jeremycallahan.com
Twitter: @jeremycallahan
Jeremy Callahan is the #AppMan, Expert Mobile App Developer, App Marketer, Front End Engineer, Motivator who gets shit done and Inspires others!